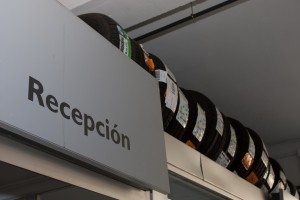 Biar Car Automoción es una empresa joven, dinámica y profesional, de la rama de la automoción, dedicada principalmente a la reparación de vehículos y maquinaria con motores térmicos.
Empresa familiar fundada en el año 2013 por dos hermanos, los cuales nos encargamos de las diferentes áreas del taller.
Nuestra especialidad es la reparación y mantenimiento de todas las marcas y modelos de turismos, vehículos comerciales, motos y maquinaria agrícola, también tenemos venta de vehículos de ocasión totalmente revisados y con garantía.
Disponemos de taller mecánico totalmente equipado con la última tecnología en herramientas y dispositvos electrónicos de gestión y diagnóstico de averías, así como analizador de emisiones y rodillos de comprobación de potencia de frenado para las revisión pre-ITV.
Tenemos a tu disposición una amplia exposición de venta de vehículos de ocasión, donde también puedes esperar la entrega de tu vehículo reparado o revisado mientras tomas un café.
Estamos en la localidad de Biar, en la comarca del Alto Vinalopó, a 50km de la ciudad de Alicante y dentro de su provincia.
Os esperamos en Biar Car Automoción, ¡ ven a visitarnos cuando quieras.!
Biar Car Automoción, is a young, dynamic and professional automotive garage, mainly dedicated to the repair of vehicles and machinery with combustion engines.
Family garage founded in 2013 by two brothers, who take care of the different areas of the shop.
Specialized in the repair and maintenance of all models of cars, commercial vehicles, motorcycles and agricultural machinery, we also sell used cars fully revised and guaranteed.
We have fully equipped machine shop with the latest technology in tools and electronic fixture by management and troubleshooting, emissions analyzer and power roller brake testing for pre-ITV review.
A wide exposure of used cars for sale, where you can expect delivery of your vehicle repaired or serviced while take a coffee.
We are in the town of Biar, in the Alto Vinalopó, at 50km from the city of Alicante. We hope at Biar Car Automoción, come visit anytime. !